ENSURING SMOOTH JOURNEYS
Max Highway Co., Ltd. is a subsidiary of Max Myanmar Group Of Companies and started operations in 2008 in Myanmar. Its vision is to build, maintain and operate standard quality roads that are vital to the nation's development.
Max Highway utilizes resources in the most efficient, effective and professional way to develop safe and convenient transport routes.
The Way Forward
Its work in road construction entails raising the level of roads, widening them and extending the length of roads to connect more places. By establishing a wider and more efficient road network, linking rural areas with urban, and small towns with cities, Max Highway is helping to open up the country to commerce and development, and enabling an exchange of expertise and ideas.
Max Highway also collects toll gate fees under the B.O.T system from the Ministry of Construction.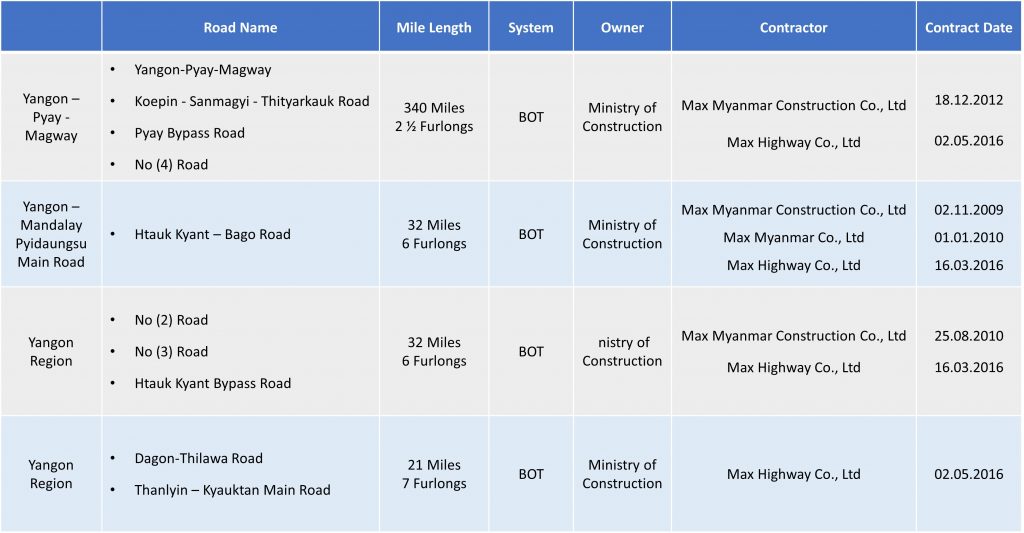 Notable networks managed by Max Highway are Yangon-Bago and Yangon-Pyay-Magway which connects the mid-west delta, one of the most promising regions in the country. And with its presence, Max Highway is able to support job creation for local residents, furthering its contribution to the nation's socio-economic development. It is planning a cashless payment system for greater motoring convenience and a smoother flow of traffic.