Myanmar has entered a critical phase in its fight against a powerful second wave of Covid-19. Ministry of Health and Sport was able to rapidly increase COVID-19 testing at the start of the 'second wave' but as infection spread it soon hit the limits of its testing capacity. A local surge in demand for public medical care requires areas in which to establish such Alternate Care Facilities (ACFs) where patients with Covid-19 can receive adequate medical care for the duration of their quarantine period.
In an effort to combat an alarming increase of Covid-19 cases during second wave, temporary treatment centers, or Alternate Care Facility (ACFs), have been constructed in Yangon and Mandalay by the Ayeyarwady Foundation.
Temporary Treatment Centers for Covid-19
Since the beginning of the Covid-19 pandemic, Ayeyarwady Foundation has been contributing all its resources for the people's safety and public health. The Foundation has set up quarantine camps converted from AYA Bank Training Center, three camps of Myanmar National Football Teams and National Football Academy (Yangon), which can hold up to 350 people to be quarantined. Together with Max Hotels Group and Novotel Yangon Max, the Foundation has provided daily meals for 600 quarantined people in Yangon each and every day during the crisis.
In an effort to combat an alarming increase of Covid-19 cases, an emergency temporary treatment centers, or Alternate Care Facility (ACF), have been constructed at Thuwunna artificial Turf for 575 patients and Thuwunna Youth Training Center for 300 patients. 125 bedded Critical Care Unit including 22 beds for ICU and 103 beds or HDU were built by Ayeyarwady Foundation and managed by the Ministry of Health and Sports. The foundation also built Test & Care Center at Thuwunna Stadium.
With the guidance and close supervision of Mandalay Regional Government and MOHS, 300 bedded ACFs for Covid-19 positive patients will be built in Mandalay Region. The Ayeyarwady Center is located near Mandalar Thiri Stadium, Chanmyathazi Township. The location of the center is away from residential area, community housings and so it is ideal location to contain the Covid-19 pandemic by providing necessary medical care to the positive patients.  The centers were fully air-conditioned, and all the funds required for the entire infrastructure, logistics and supplies were donated by Ayeyarwady Foundation. Health care services were provided by a team of more than 600 people consisting of healthcare professionals, pharmacist and volunteers.
Covid-19 Guidelines for Employee of Max Myanmar Group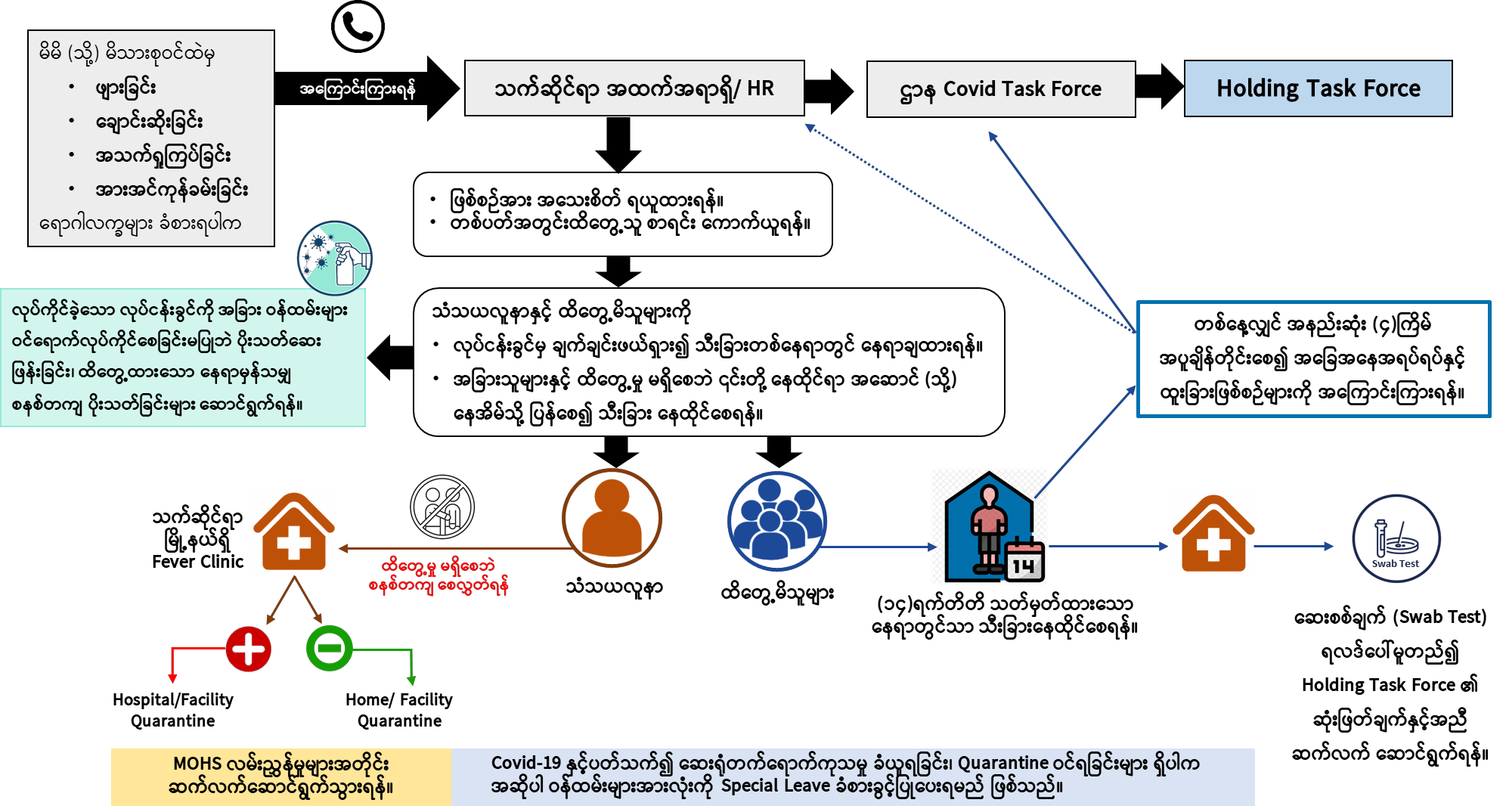 Vaccination for Employee
During 4 days from 7th February to 10th February 2022, total 1109 employee from Max Myanmar Group were vaccinated for booster dose.