We are focused on the areas of greatest need, on the ways in which we can do the most good.
See more about Ayeyarwady Foundation
PLANNING A WORTHY LEGACY
Chairman U Zaw Zaw has a strong interest in the nation's development and imbues the values of good corporate citizenry throughout the entire Group.
Ayeyarwady Foundation was set up in 2010 as a Non-Profit Organization (NPO) to focus on 5 pillars of philanthropy.
A. Youth Development and Sports Programme
Probably the world's most-loved sport, football inspires the young to dream big and work hard for their goals. The beautiful game builds character, promotes team spirit, and instills national pride… so essential to a nation's development.
As such, Ayeyarwady Foundation focuses on the development of youth football, with commitment from the very top. Chairman U Zaw Zaw's passion for the game inspires players both on and off the field and, despite his demanding work schedule, always finds time to fulfill his responsibilities as Chairman of Myanmar Football Federation (MFF).
Ayeyarwady Foundation works through Myanmar Football Federation (MFF) with the Ministry of Education and the Ministry of Health & Sports, to organize basic football training in Basic Education Schools, Youth Football Competitions and Grass Roots Programmes.
These initiatives were recognized by ASEAN Football Federation with the Goodwill award being given to Chairman U Zaw Zaw in 2017.
B. Health
Ayeyarwady Foundation donates to medical funds and offers medical assistance to the needy. It is building and donating medical facilities such as Hospitals and Dispensaries, and commissioning ambulances across the country. Contributions to FIFA's 11 for Health Programme introduces health through football to children of school-going age across the country.
In Yangon, Yankin Children Hospital was redeveloped, equipped and furnished at a cost of US$10 million (13b MMKs).
In a city of over 5 million, the 550-bed facility provides much-needed capacity with neo-natal care, medical, surgical and emergency wards.
Ayeyarwady Foundation has continued to support needy children with donations that cover food, treatment, pediatric specialist care, and building maintenance costs.
C. Education
Ayeyarwady Foundation constructed Basic Education High Schools (B.E.H.S) for Pyay and Yekyi Townships and over ten Basic Education Primary Schools (B.E.P.S) for various townships across Myanmar. Scholarships are awarded to students with outstanding results, extending the opportunity for further studies to children of Max Group staff and underprivileged youths.
D. Disaster Management
When natural disasters strike, Ayeyarwady Foundation works with our partners to be better prepared: to respond to and recover from. We help communities to "build back better" with innovative tools and approaches.
E. Responsible Business Practices Program
Ayeyarwady Foundation strongly believes that community, and environmental responsibilities and activities are integral to the sustainability of our Group.
We facilitate the community development in areas of financial, educational, charitable, cultural, and environmental causes. We also actively participate in the prevention, reconstruction, and rehabilitation of the community from the impact of natural disasters.
F. Ayeyarwady Center
Under the guidance of the Ministry of Health and Sports (MOHS), Ayeyarwady Center by Ayeyarwady Foundation will be extended to (950) bedded treatment center with Center (A), (B), (C).
This extension project will be led by Professor Dr Zaw Wai Soe, Vice Chairman of Yangon Region Covid-19 Prevention, Control and Treatment Coordination Committee, Professor Dr Myint Myint Nyein, Committee's Secretary and U Zaw Zaw, Chairman of Ayeyarwady Foundation.
Ayeyarwady Center (A) is currently providing treatment for 575 patients at Thuwunna Artificial Turf.
Center (B) will have 300 beds and it is being built at Thuwunna Youth Training Camp and
Center (C) will be set up with 125 beds (22 beds for ICU and 103 beds for HDU) as Critical Care Unit at Thuwunna Stadium.
Ayeyarwady Foundation is also building another Test & Care center near Center (C) which is located at Thuwunna Stadium.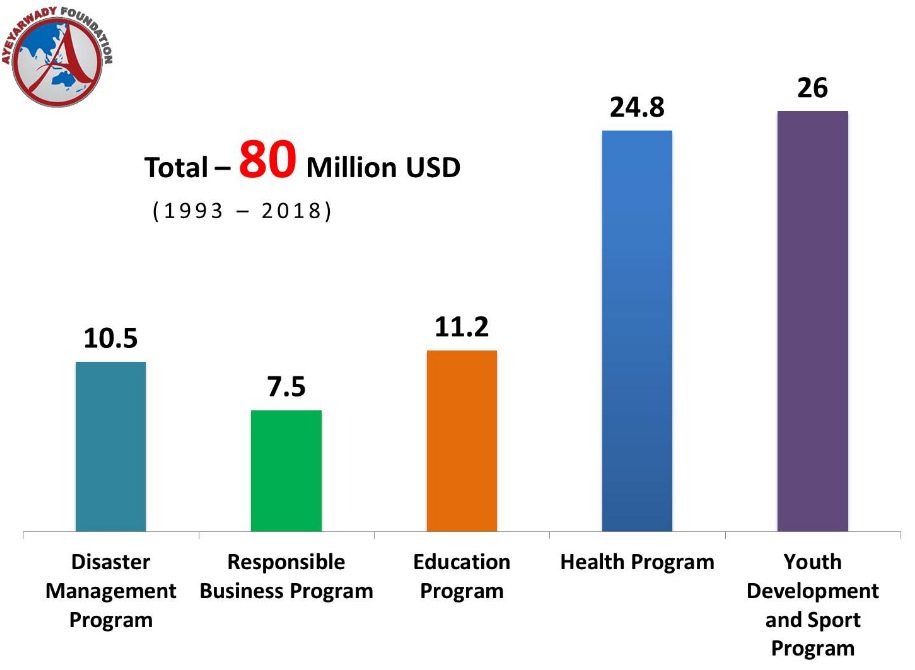 History
Max Myanmar Group of Companies was established since 1993 and owned by Myanmar Citizen starting from the date, was very much involved energetically in State building activities and also actively taking part in Social, Education, Health and Sports activities by supporting and donating for the benefit of our country and our people. Max Myanmar Group of Companies is still actively supporting in Development of Myanmar during its (25) years time and giving back its best for the gratitude of the country, at the same time very much involved in uplifting the people's need such as food, clothing and shelter conditions and if opportunities arise, supporting and donating funds and labors in the field of well adapted Health and Religious matters will be continuously carried out in the future. Max Myanmar Group of Companies is donating in the country's priorities such as Education sector from Basic Elementary level to Universities, Collages level throughout the country and constructing and donating some Hospitals and Dispensaries in Health sector.
During 2008, when the cyclone Nargis, the worst disaster encountered in Myanmar's History, hit the Ayeyarwady Division, Latputa District, right after the aftermath, the foundation started its operations by supporting and donating lifesaving materials, supporting the victims and their families in their rehabilitation efforts such as their sanitation and health. The Ayeyarwady Foundation has consistently supported and invested millions of Kyats in order to rehabilitate the victims of the cyclone Nargis to be able to get them back to their daily lives. The Ayeyarwady Foundation has also contributed in the religious sector by building, renovating, constructing religious structures, museums and Archives buildings in Ayeyarwady Region and Nay Pyi Taw Region. Furthermore, in the sector for the development of social activities, the Ayeyarwady Foundation has constructed, renovated and transferred ownership of the office building of the Ministry of Mines to the Ministry of Health, a (550) bedded Yankin Childrens' Hospital worth 9 Billion Kyats situated in Yankin Township in Yangon Region. The Foundation is still active in supporting free medical treatments to the under privileged children and providing logistical supports till date to the upkeep of the said hospital.